Measures against the corona virus
When The National Lifeboat Museum Dorus Rijkers opens again we take safety precautions to ensure a safe en pleasant visit to our museum.
Safety precautions
The National Lifeboat Museum does its utmost best to ensure a safe and relaxed visit for all visitors. We follow the guidelines of the Dutch Government, the Museum Association and the advice of RIVM. This means, among other things, that the museum will work with a fixed walking route and start times per visitor, also known as time slots. The National Lifeboat Museum Dorus Rijkers does its utmost best to ensure a safe and relaxed visit for its visitors.
Reserve time slots
Due to the corona measures, an online ticket with a time slot is required for a visit to the The National Lifeboat Museum Dorus Rijkers. With this we ensure a good and quiet flow of visitors.
People from the same household can currently reserve one time slot together. Reserving time slots also applies to Museum year card holders and people with a combination card or a KNRM donor pass. They can indicate which pass they own when booking a time slot. The combination entry ticket with the Navy Museum in Den Helder remains valid. However, they must show their card at the ticket check or buy a card.
Museum visit
To what extent do the measures influence your visit to the museum. What exactly changes?
Upon arrival, you must clean your hands with the disinfectant soap provided for this purpose;
Visitors follow a set walking route through the museum. This route is indicated by arrows on the floor;
Only our wind tunnel is not in use;
The audio tour is normally available and is cleaned after use;
There are no sailing trips with lifeboat Johan de Witt;
Boat trips with the museum ships can only be booked fore 6 persons.
The main entrance is no longer the exit. Visitors leave the museum via another exit;
There are volunteers who regularly clean certain areas of the museum extra;
The toilet in the museum is open to the public, there is also a toilet for the disabled.
Only less mobile people can use the lift;
Coats and bags must be brought by visitors into the museum or left in their car.
Despite these measures, the volunteers and employees of the National Lifeboat Museum provide a unique experience where visitors are taken into the exciting story of the rescue system in the Netherlands and the rescuers of the past and present.
Do you have any questions? Check our frequently asked questions page and if your question is not listed, please email info@reddingmuseum.nl or call 0223-618320.
Opening hours
Every Tuesday to Sunday from 10:00 AM - 5:00 PM
Open on Mondays during Dutch school holidays.
December 25th, January 1st and April 27th closed.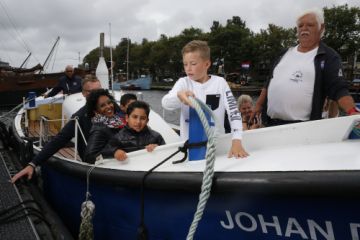 Entrance fee
Adults: € 8,75

Children 4-17 years: € 6,75

Children under 4 years: free

Family (max. 5 persons): € 28,50

Combination card with the Dutch navy museum: € 15,-

Combination card with the Dutch navy museum: € 10,-

Dutch Museum Card "Museumjaarkaart": free
Boattrip with Johan de Witt (from April 1st - November 1st): € 3,50

Price changes reserved